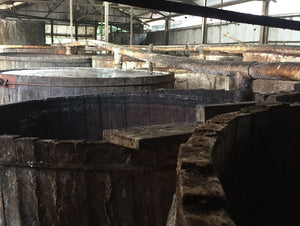 The Down-low on Dunder
Dunder, also known as 'stillage' or 'backset' in other parts of the industry, is the leftover liquid in the still post-distillation of rum. This can be saved in a 'muck pit' or 'dunder pit', which is traditionally and commercially often a wooden vat or barrel.  A simple plastic bucket or some other sort of vessel can be used as a muck pit by the home distiller for ease with great results. Typically 10-40% is added back into a new fermentation when home distilling rum.
Image copyright cocktailwonk.com.
For more on dunder visit their site-
https://cocktailwonk.com/2016/03/days-of-dunder-setting-the-record-straight-on-jamaican-rums-mystery-ingredient.html
---