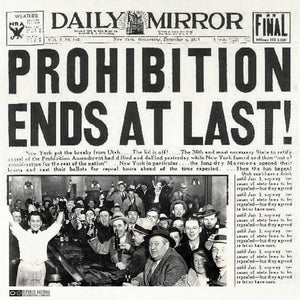 December 5th | Happy National Repeal Day!
On December 5th, 1933, after 13 years of Prohibition, the United States repealed the 18th Amendment and Americans were free to drink again. Some would say that Americans liked their liquor and beer a little too much coming into prohibition, and that's what caused the nationwide experiment to ban alcohol.  It did curb drinking on a whole, but created an entire new industry around spirits.
Of course Americans had kept drinking, they just didn't have to do it from the shadows of their own home or speakeasies anymore. It led to a boom in the moonshine industry as well as organize crime across the country. Illegal booze began flowing in across the borders, as well as Americans heading the other way into Mexico and Canada for a drink.
Celebrate with a drink today with a sip of something! If you need some inspiration, gin rickey is an easy to make cocktail, and was one of the most popular cocktails following prohibition and in the 1930's.  It's tart and refreshing, as they seemed to enjoy their drink a bit more bitter than we do now:
Gin Rickey
2 ounces gin
0.5oz lime juice
Club soda
Lime wheel for garnish
Fill a highball glass (8-10 oz glass) with ice.  Add lime juice, then gin, and top up with club soda. garnish with a lime wheel or two. Optional: A dash of simple syrup on top will cut down on the tartness, in case it's a bit much for you.
---